Group Visit (more than 12 persons)
Garden maintained with passion for more than 30 years, the Garden of the Five Senses has become over time, an unmissable place of Haute-Savoie.
Planning a group visit during a stay is the guarantee of an original activity of quality and the assurance of a real discovery for all types of visitors.

Groups are welcome on demand, according to availability from April 9 to October 3, 2021. 

Contact us by e-mail or phone for any information or to book a group visit: +33 (0) 4 50 72 88 80 or send us an email
Adult groups, children groups or professionals: get the complete file for group visits directly.

Adult group visit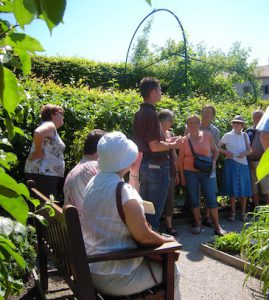 Each group is greeted by a member of the team for an introduction to the garden to understand the place. Upon arrival each participant receives an explanatory map. On the course, visitors regularly meet gardeners who willingly share their passion and knowledge. A visit of the garden in group lasts on average 1h.
If you want the guided tour option, please specify your request as soon as possible so that we can book a guide. Allow 1h30 of visits for 25 people and choose your formula:
« 100% GARDEN » GUIDED TOUR: accompanied on the whole of your visit, you will thus know all the secrets of this exceptional garden. Gardening gestures or botanical curiosities will be at the rendezvous. Our guides are in great demand, do not hesitate to contact us as soon as possible to check availability: +33 (0) 4 50 72 88 80 or send us an email
« VILLAGE + GARDEN » GUIDED TOUR: first of all, start your visit in the heart of the village to go back in time. Dive into the history of the medieval city before passing the garden step for a moment of discovery of the vegetal world. For any information concerning this formula, contact the tourist office of Yvoire on +33 (0) 4 50 72 80 21 or by email at [email protected]
School and children group visit


The visit of the Garden is a particularly exciting activity and rich in discoveries for children: awakening of the senses, initiation to gardening, ecology and biodiversity or life in the Middle Ages.
Upon your arrival, a member of the team is there for a first introduction to install the theme. In a second time small teams are constituted to visit in an autonomous way (accompanied by the adults who supervise your trip). The discovery quiz (available in many languages) serves as a visiting support. Each team evolves at its own pace… Who will find the soft « Ear of Bear », the plant smelling pineapple or the one with the smell of chewing gum?
For reasons of quality, we receive groups of more than 30 children in several sessions spaced by 45 minutes.
Contact the team to prepare your visit, book the timeframe that suits you best.
To complete your day or for a guided tour, send your project to [email protected] or [email protected]