A shop with a garden spirit




The shop is open from april to october ! You will find products meticulously chosen for you according to the seasons: market with plants, local products, specialized bookstore or even educational games for children … you will certainly find your gift ideas!




For the more gourmands:



The Caramiel, without hesitation the most greedy gourmandise ! The mix between a pure natural honey from Haute-Savoie to a salted butter caramel.

Clearly a marvel of flavor.

Lemon verbena syrup

for original drinks but also creative recipes

Floral herbs for omelettes, salads, grills and many others …



For beginners and novice gardeners:



Seeds store

: poppy, arnica, hyssop, cinnamon basil … blends for flowering meadows are also available.

Specialized bookshop: organic gardening, history of the art of gardens, size of plants …


Plant market

: perfumed and repeat flowering rose plant 'Blanc Double de Coubert', varied perennials and collection of fragrant plants …



For the natural well-being:



The organic distilled plant water:

rose, lavender, cornflower … Guaranteed without additive and entirely natural for the secrets of beauty and health.

The Elixir of the Carmelites: one of the oldest elixirs in the world unchanged since 1611

Organic herbal teas for every day: well digest, sleep well but also well breathe or just to enjoy your day !
AQUARIA, the perfumed product range inspired by a rose …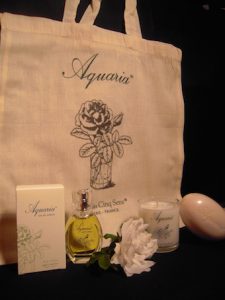 Imagined and designed by the Masters perfumers from Grasse, Aquaria is an exclusivity of the Garden of the Five Senses. The eau de toilette, the scented candle and the shea butter soap have become the must-have of our shop.
Tribute to Rosa rugosa 'Blanc Double de Coubert' … This rose has been chosen since the creation of the Garden of the Five Senses for its rusticity and its prolonged flowering. Quickly, the perfume of its flowers attracts the attention of all visitors: this is how the eau de toilette was born, as a tribute to this emblematic white rose with a particularly intense and elegant fragrance.
Aquaria, Aquouère, Evouère … Yvoire. As if to remind a distant history, the range bears the ancient medieval name of the village. 
The bilingual book « LE JARDIN DES CINQ SENS » by Ulmer
For a long time the idea of a book had germinated … Thanks to the Ulmer editions, the project finally came to fruition! A beautiful visual work has appeared in the « Exceptional Gardens » collection. The photographer Pierre Girol followed the garden relentlessly and his particularly successful shots bring a new look on the garden. On the texts side, our head gardener Matthieu Constans and Franck Sadrin combine to unveil the concept behind each space that makes up the plant labyrinth. French and english bilingual version. ISBN 978 – 2 84138-732 -8
19€90