The Jardin des Cinq Sens is a private place. It is therefore an autonomous project that has lasted for 30 years. It offers a true experience to each visitor who takes part in the life of the garden: participate to a living work where pains and passion are not counted. Entrance fees allow the garden to be maintained tirelessly and to build a various and amazing plant collection.
The Jardin des Cinq Sens is a particular garden, where aesthetics and quality become the pretext for the discovery of the plant world by a sensory visit …
Thanks to all our visitors!
Individual ticket
12 € Adult

7 € Child from 6 to 18 years (under 6 years old, free admission)

31 € Pass family (2 adults and 2 children)

3,50 € Extra child « Family Pass »

8,50 € Student (under 26 years old)

8,50 € Handicapped or accompanying person
You will be more than 12 persons? Access here for group information


Season package: visit without limit!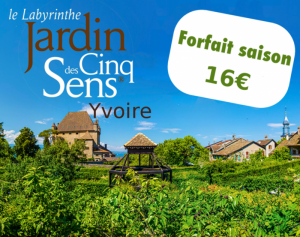 Visit the Garden as many times as you wish from opening in April to closing in October for only 16 € !